PRODUCERS AND COPRODUCERS: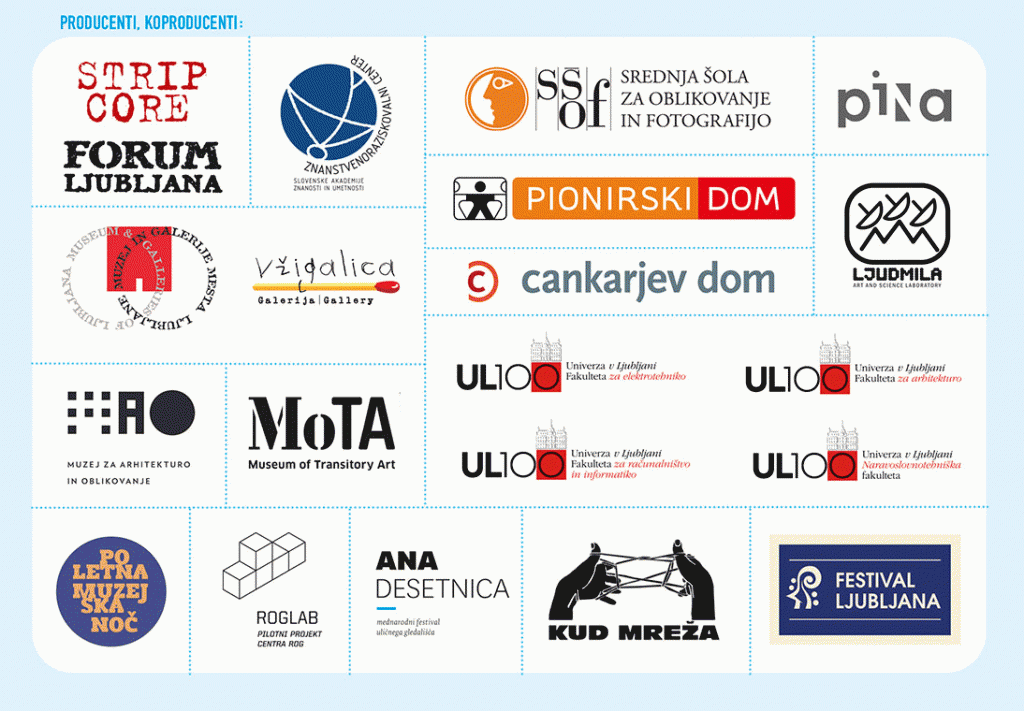 COFINANCERS, SPONSORS AND DONATORS: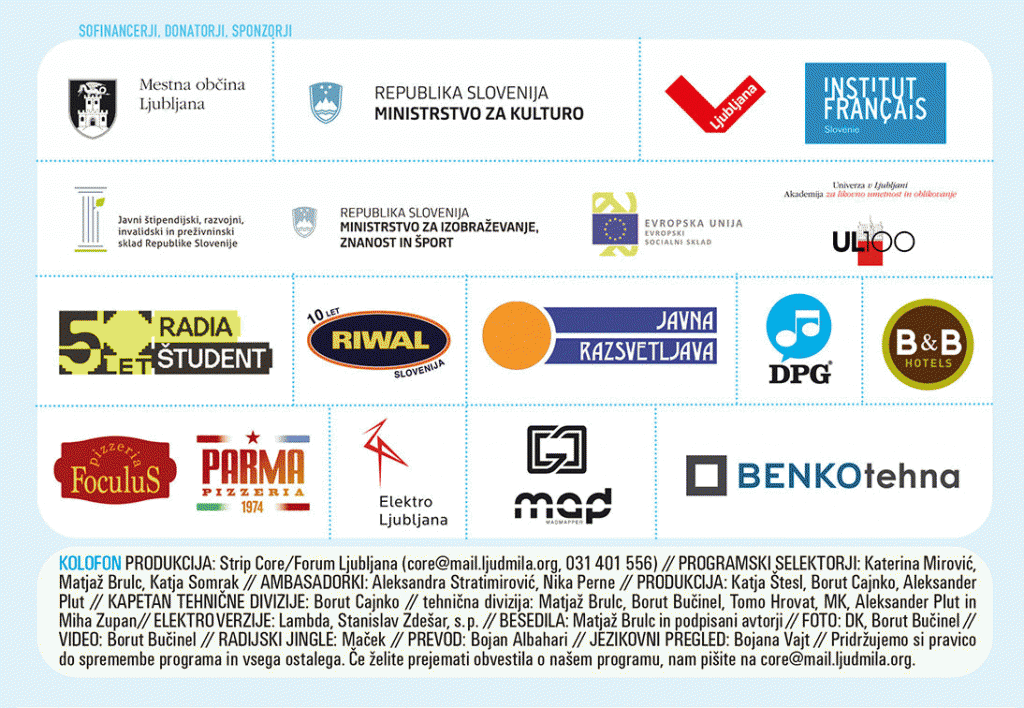 COLOPHONE 2019
PRODUCTION: Strip Core/Forum Ljubljana
COPRODUCTION: Museums and Galleries of Ljubljana (MGML); Association Ljudmila, laboratory for science and art; RogLab/MGML; ZRC SAZU and SAZU; Cankarjev dom; Alkatraz/KUD Mreža Gallery; KUD MoTA; KID Pina; Pionirski dom – Centre for Youth Culture; Museum of Architecture and Design (MAO); High School of Design and Photography Ljubljana (SŠOF); Academy of Fine Arts and Design  (ALUO); Faculty of Computer and Information Science (FRI); Faculty of Architecture (FA); Faculty of Electrical Engineering (FE) and Faculty of Natural Sciences and Engineering (NTF).
COFINANCED BY: Ministry of Culture RS, MOL – Department for Culture, Ljubljana Tourism, French Institute in Slovenia, Republic of Slovenia and European Union from the European Social Fund.
SPONSORS: Elektro Ljubljana, electricity distribution company, d. d.; Javna razsvetljava, d. d.; Riwal, d. o. o.; IB-program, d. o. o.; Grosmetal, d. o. o.; pizzeria Foculus and pizzeria Parma, Garage Cube, Madmapper, DPG, B&B Hotels, Benko-tehna, d. o. o.
SPECIAL THANKS: residents of the Križevniška ulica 2, Četrtna skupnost Moste, residents of the Home for the Elderly Fužine, Center aktivnosti Fužine (CAF) – središče druženja in aktivnosti za starejše / Centre of activities Fužine (CAF), Cona Fužine, Society for the Development of Youth Community Programmes and residents of Fužine
MEDIA SPONSOR: Radio Študent