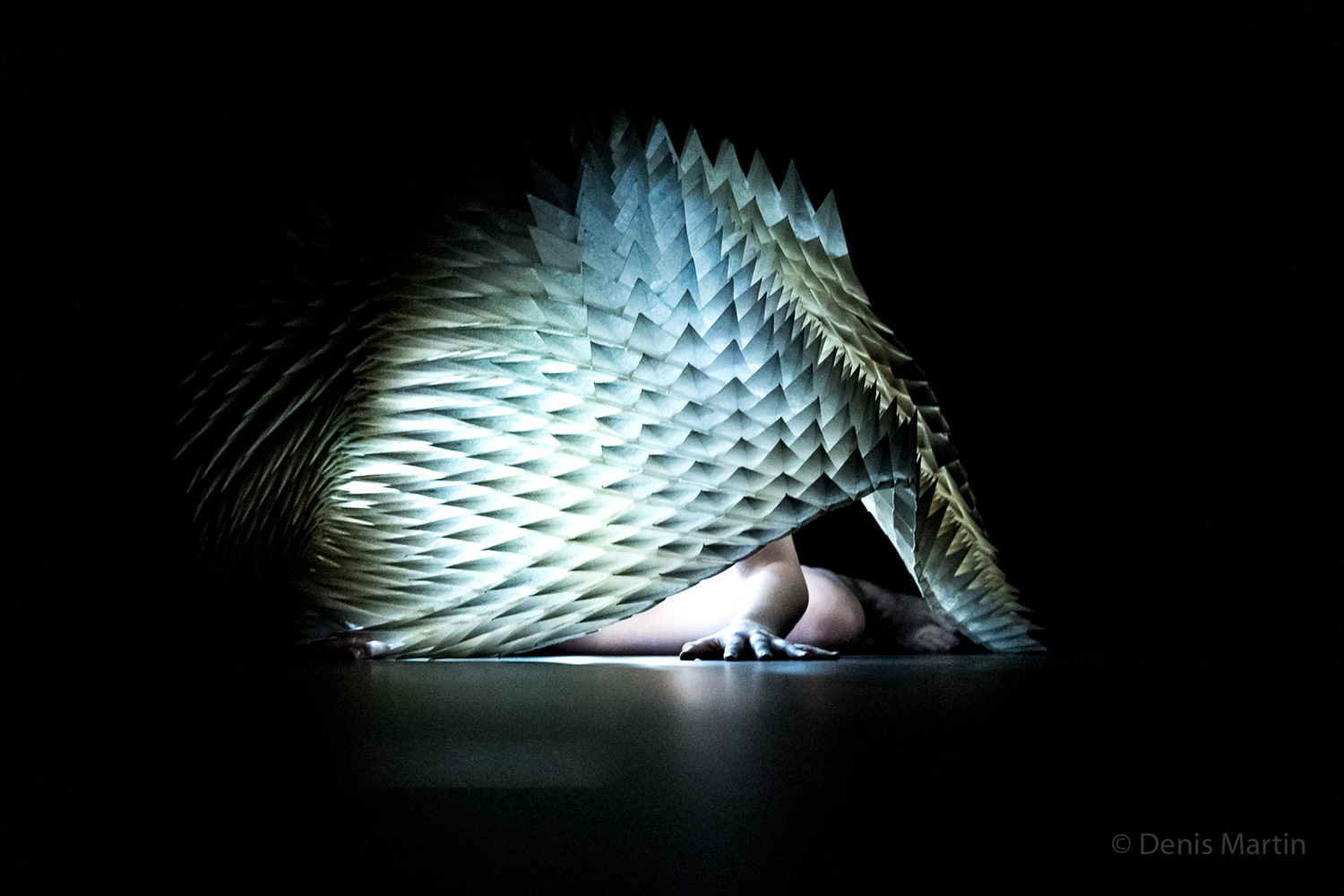 BETTINA SZABO/PETRIKOR DANSE: Habitat
BETTINA SZABO/PETRIKOR DANSE: Habitat
interdisciplinary solo performance
Dance Theatre Ljubljana, Friday, 2 June, at 8 p.m.
---
Habitat is an interdisciplinary solo inspired by the life cycle of hermit crabs; a metaphor about the process of my emigration to Canada. This multidisciplinary performance combines movement, voice with live electronic music, paper sculpture 'Hermes' (600 pointed paper cones) and lighting.
All elements are controlled by the performer in real time – they are her shell, her habitat. The lighting and sculpture create beautiful visual effects reminiscent of the aurora borealis. All of the aforementioned elements render Habitat a hypnotic poetic experience with an eerie aquatic atmosphere. /B. Szabo/
The dancer and choreographer BETTINA SZABO was born in Uruguay and has been living in Montreal, Canada, since 2007. In 2013, she graduated in dance from the Canadian School of Contemporary Dance EDCM, and in 2017, in choreography from the Concordia University (Montreal, Canada). As a dancer, she is interested in collaborative processes based on somatic explorations; her stage projects are frequently interdisciplinary, and they are characterized by a close intertwinement with music and visual art. She has performed in Geneva, Lyon, Vienna, Montreal, Toronto, Mantes La Jolie, Ramali and Bilbao. She has received numerous awards and scholarships for both her dance and choreographic work.
Choreography/performance: Bettina Szabo
Music: Joel Lavoie, Ana Dall'ara Majek
Scenography: Jacinthe Derasp
Dramaturgy: Morena Prats
Costume: Alexandra Bachmayer
Lighting design: Paul Chambers
Production: Petrikor Danse
Hosting co-production: Dance Theatre Ljubljana