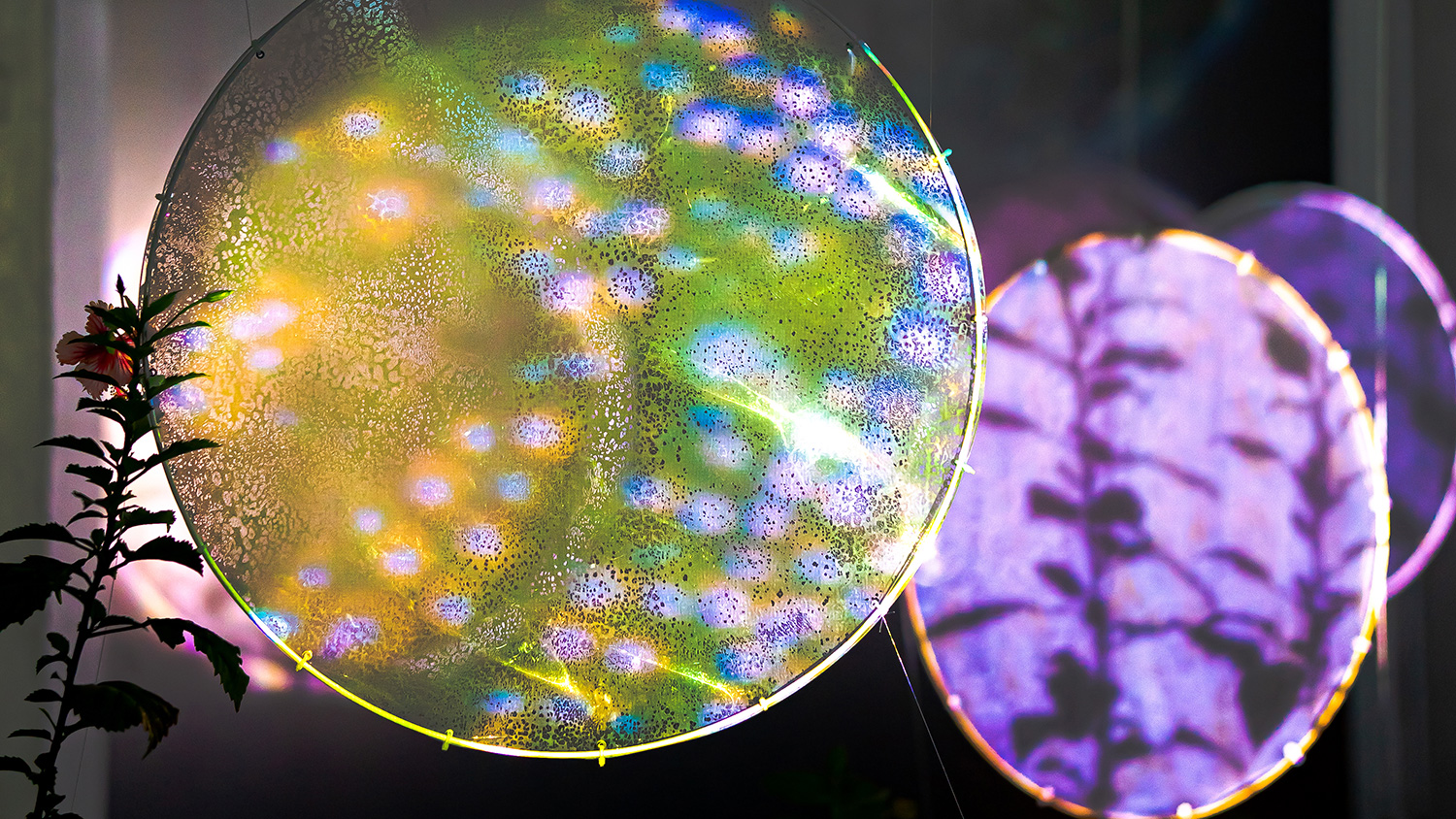 Camila Mejía, Erik Wälz: Microlayers
Camila Mejía, Erik Wälz: Microlayers
light installation
Match Gallery
---
The project Microlayers explores issues of connection between the built and natural environment, between urban and natural ecosystems. The artists focus on natural biological processes, in order to, by means of them, awaken our consciousness and interest in the immediate environment, where various strategies are revealed in the natural world, which can significantly contribute to solving ecological and environmental problems of modernity. Camila Mejía and Erik Wälz conceptualised an experimental work that visualises hidden biological processes taking place around us: with the help of images of diverse microenvironments, they offer the viewer an insight into organic structures of various plants found in Ljubljana. According to the artists, in the face of increasing impacts of climate change, we need to immediately rethink and transform our relationship to nature or the environment, so that we can develop new infrastructural models that will help us survive in the conditions of rapidly changing climate reality.
CAMILA MEJÍA (1989, Bogotá, Colombia) graduated from the art academy in Bremen, Germany, in 2022, where she also lives and works. She is a multidisciplinary artist who mostly works in the fields of film and light installations: in her work, she often explores and thematizes connections between analog and digital worlds, always searching for new parallels between them.
ERIK WÄLZ (1997, Oldenburg, Germany) is a student of digital media at the art academy in Bremen. As an intermedia artist, he employs a wide range of technological or digital tools to explore complex relationships between the human living environment, nature and technology. He mostly creates audiovisual spatial installations and lighting projects, with which he explores our perception of reality.
---
22. May-17. June 2023 // opening hours: Tue_Sun., 12.00–23.30
18. June–28. Aug. 2023 // opening hours: Tue-Sun., 10.00–18.00
coproduction: The Museum and Galleries of Ljubljana (MGML)
thanks to: Bettina Pelz
sponsor: Tree Nursery Omorika